1965
1965 would prove to be the busiest year of the lads' lives.
Decca released the first Dover Souls LP, Misty Monday Morning, on April 15, 1965 to less than glowing reviews. The music
critic for the London Evening News, Neville Throckmorton, wrote, "The inexplicable popularity of "Misty Monday Morning" aside, this album is, at best, the act of juvenile musicians and has the lyrical depth of a pint glass".
But British teens bought the album as quickly as they were stocked on the shelves. The group's popularity soared to new heights.
The Souls were invited back to Sunday Night at the London Palladium as the featured act, and performed May 6, 1965 to a sold-out show. Mick Jagger attended the taping as a guest of Anthony's and sang harmony on the Souls version of Chuck Berry's "Roll Over Beethoven".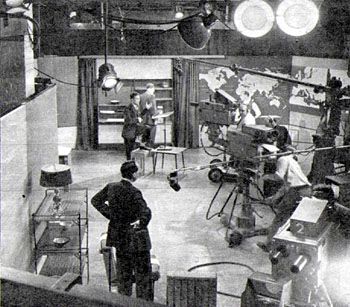 For the next few months, The Dover Souls were everywhere. They appeared on the BBC television show
Today with host Bill Gundy on May 31, 1965; on ITV's music show Ready Steady Go! on June 8, 1965; on BBC's Top of the Pops on June 28, 1965 (Editor's Note: The warm-up band for the night of the Dover Souls appearance on TotP was a rocker named Paul Raven, who would later become better known as Gary Glitter). The public simply couldn't seem to get enough of "Misty Monday Morning." The song finally peaked at # 7 in the June 1965 New Musical Express (NME) chart.
In July, the Souls were invited to appear on the twice-weekly BBC British football soap opera United! to play "Misty Monday Morning" at halftime in one of the show's fictitious matches. Anthony Smithe-Jones was asked to deliver a couple of lines with cast actor Michael Billington.
Anthony was immediately bitten by the acting bug. He soon became friendly with Billington. The two men were born and raised under similar blue-collar circumstances—Billington hailed from Blackburn, Lancashire, very close to Manchester. It was a friendship that would last for years, and eventually lead to Anthony's big break in Hollywood.
Decca Records attempted to get the band booked on the Ed Sullivan Show in New York city. Unfortunately, the show was not interested and passed on the opportunity.
Main Page Early History Forming the Band 1964 The Hit 1965 The Break-up Anthony in New York Honey Vicarro 1966-Lads In UK The Reunions The Tragedy Smithe-Jones Bio Biggs Bio Tolliver Bio St. John Bio Discography Webmistress