Misty Monday Morning . . . the story
I am so excited!! Ken and I have a friend, Valerie, that is addicted to swap meets. She knows how big a fan I am of the Dover Souls so she keeps an eye out for their albums or the 45s. Last weekend she was at the 7 Mile Fair swap meet in Caledonia and decided to have a look through one gentleman's vast collection of old 45s. Lo and behold she found the long thought-to-be-lost 45 of Misty Monday Morning!!! (See below) Can you believe that the vendor only wanted $1.00 for it? Ha! I would have paid $100.00! I have to be honest, when Valerie gave it to me I cried. It's not in very good shape but it's the first time I've heard the song on vinyl since my own copy wore out in 1987. The B side, Hey Judy Bluebird, was damaged beyond repair but MMM is still playable. So, with great fanfare, ladies and gentleman, I give you the first MP3 of The Dover Souls!
Click on this link to play the song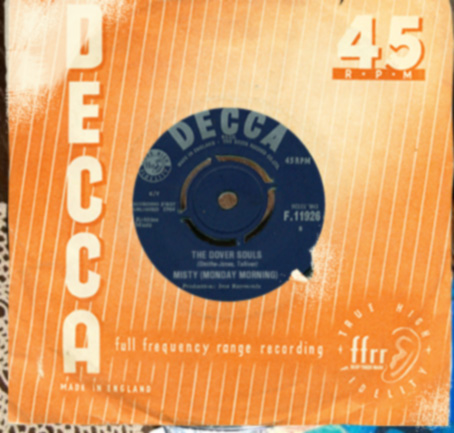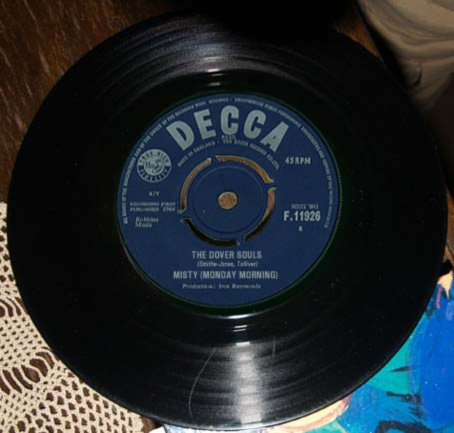 Lyrics
Smithe-Jones \ Tolliver
Every Monday morning, Misty walks along the lane.
She passes by my window on her way to catch the train.
She's so fine.
That girl is so divine,
Someday I'm gonna ask her to be mine.
I sit down by the telephone and pour myself a cup,
Each night, I dial her number. When she answers I hang up.
I'm so blue.
She doesn't have a clue.
How much I'd love to hear her say "I do."
I'll give it one more day
Before she slips away
And miss my chance with Misty Monday morning.
Once my father took me aside
He told me, "Son, you've always been shy.
But you're gonna fail, if you never try."
I waited at the station with some flowers in my hand.
She stepped out from the train into the arms of another man.
Through my tears,
I watched them walk away.
I'd put off for tomorrow what I should have done today.
I gave it one more day
And let her slip away
I missed my chance with Misty Monday morning.
I missed my chance with Misty Monday morning
Main Page Early History Forming the Band 1964 The Hit 1965 The Break-up Anthony in New York Honey Vicarro 1966-Lads In UK The Reunions The Tragedy Smithe-Jones Bio Biggs Bio Tolliver Bio St. John Bio Discography Webmistress