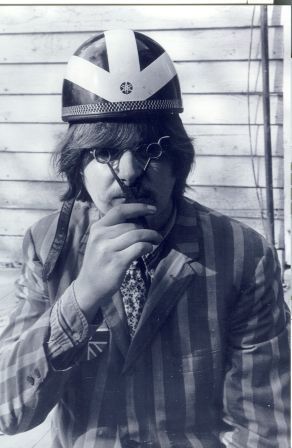 George St. John
Born: August 8, 1941
Died: March 1, 1978
Height: 5' 7"
Weight: 180 +
Eyes: Brown Hair: Brown
Hometown: Liverpool, England
Nickname: Wildman, The Saint, Stinky
Instrument: Drums
Notes: George was born in Liverpool, the only child of Bettye and dock-worker, Stephan St. John. George was delivered with an identical twin, Stephan Jr., who died shortly after birth. Stephan St. John was, by all accounts, an abusive alcoholic, eventually dying in a freighter accident when George was 5. Many people thought it was suicide and George would spend the rest of his life secretly trying to win his Father's approval, even in death.
George was the ultimate practical joker. He enjoyed playing tricks on his friends, who believed that he invented the "pull-my-finger" prank.
Because of his Father's premature death, George had to work at an early age to help support his Mother. He got his first job setting pins at a local bowling alley when he was 7. He delivered milk, shined shoes, scraped barnacles off the hulls of ships, swept up at a pub and even ran numbers for a local, small-time bookie, all before he was 13. While working for the bookie, George got his first drum kit, the result of a "client" being unable to pay off a losing bet. The bookie gave the drums to George as payment. Bettye St. John was angry when he brought the kit home, but quickly realized that George had talent. George became obsessed with drumming and local drummers. He became a roadie for local bands and even worked for the Raving Texans, Richard "Ringo" Starkey's band prior to The Beatles.
When George was 16, Bettye moved in with the bartender at the corner pub. She sent George to live with Stephen's older brother, Eugene St. John, in Manchester. George dropped out of school and began the life of a professional musician. For two years he sat in with many local Manchester bands of no real note, including The Banshees, Randy and the Soul Brothers, Captains Four and The Man Chesters. None of these bands remained together long enough to be remembered. It was in 1960 that George answered an add in the local paper for a "drummer needed" and met Anthony Smithe-Jones, Ian Tolliver and Nigel Biggs and formed "The Thieves", "The Roving Souls" and finally "The Dover Souls".
George was the group's resident wild man. He could out drink anyone and eventually became a heavy drug user. He often boasted that there wasn't a drug he hadn't tried or wouldn't try. After inheriting his late Uncle's estate in 1966 George never really worked again. The only time he played the drums was on the two aborted reunion tours of The Dover Souls in 1970 and 1975. George was arrested July 3, 1975 during a routine customs search at JFK airport in New York for drug possession. He spent six months in federal detention before the charges were dropped and he was deported back to England. He spent his free time attending clubs in the London area where he hung out with Vivian Stanshall, Graham Chapman and Keith Moon, among other fellow destructive personalities. He was arrested on drunk and disorderly charges six times between 1968 and 1973.
George's infatuation with drugs and alcohol led to his death in the Manchester railroad yards on March 1, 1978 when, after a night of serious drinking, he fell asleep on the commuter track to Liverpool and was killed when the 6:40 AM train ran him over. Some people thought that this was not an accident, but rather a suicide following in the steps of his Father's suspicious death. The death was officially filed as accidental due to severe drug and alcohol intoxication.